VITROmap
Digital Pulse Oximeter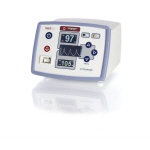 The VITROmap is a budget-priced pulse oximeter that works up to 12 hours on the integrated, rechargeable battery or directly on a mains connection. This cost-effective, versatile pulse oximeter delivers fast, reliable SpO2, Pulse Rate and Pulse Strength measurements, complete with a pulse bar graph display. The values are displayed in blue (SpO2) and green (pulse) colour.
The alarm system for saturation and pulse rate makes it easy to monitor a patient.
The alarm volume is high enough to be heard in a larger distance to the instrument. The volume of the saturation dependent pulse tone is adjustable.
Furthermore, the unit features a memory of 50 hours for up to 5 patients.
Lightweigt, Compact and Attractive Design
Medlab PEARL® technology for artefact rejection
Adjustable Alarm Limits
Simple Operation
50 h Memory for Measured Values
Crisp, Easily Readable, Coloured Display
Printer Connection
Acoustical and Visual Alarms
Saturation Dependent Pulse Tone
Usable under difficult conditions, such as patient movement, low perfusion etc.
Designed for neonates, infants and adults
Order Information
Delivery
Order Number
VITROmap
P-200 SpO2 probe
(for adults)
Wall Power Supply EU
User Manual
00840
VITROmap
P-200 SpO2 probe
(for adults)
Wall Power Supply UK
User Manual
00845
Brochure in PDF Format

VITROmap [253 KB]