PEARL 100L
Digital Pulse Oximeter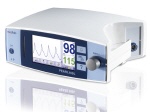 The Pearl 100L table top pulse oximeter is the first unit on the market that uses Medlab's new "PEARL" technology.
"PEARL" stands for "Pulse Enhancement Artefact Rejection Logic", meaning an algorithm that amplifies real pulses and suppresses artefacts.
The new PEARL 100L can be used in even the most demanding environments, as for example in neonatology, and in intensive care departments.
The PEARL 100L is a pulse oximeter with mains and battery operation. The device shows SpO2 values, pulse rate and the plethysmographic waveform of the patient.
The alarm system for saturation and pulse rate makes it easy to monitor a patient.
With the built-in rechargeable battery, the PEARL 100L runs for more than five hours without mains connection.
During monitoring, all measured parameters are transmitted online via an optical interface.
Suppresses artefacts extremely well
Lightweight, compact and attractive design
High resolution and bright colour TFT screen
Integrated context sensitive help system
Ergonomic user interface, uses icons where possible
Rugged - vibration tested to MIL810 standard
Red alarm bar indicator, easily visible
Manual adjustment and automatic calculation of alarm limits
Simple operation with one knob
100 h of trend memory for up to 10 patients
Screen can be switched to big numerical display
Printer connection
Audible and visual alarms
Saturation dependent pulse tone
Designed for neonates, children and adults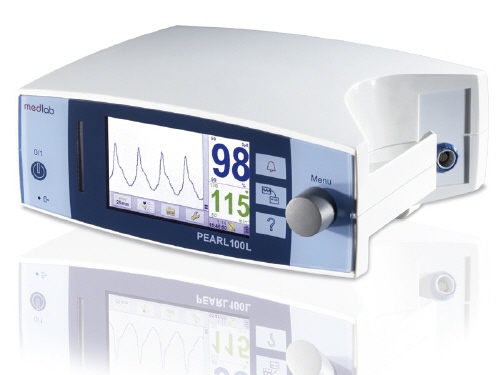 Order Information
Delivery
Order Number
PEARL100L
P-200 SpO2 probe
(for adults)
Patient Cable (150 cm)
Mains Cable
User Manual
04000
Brochure in PDF Format

PEARL100L [313 KB]