CAP10
Sidestream Capnograph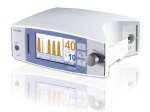 The new CAP10 Capnograph with sidestream technology fulfills all requirements you have in clinical and pre-clinical applications for monitoring a patient's breath and CO2 status.
The bright, high resolution coloured TFT display shows the etCO2 value, the inCO2 value, the respiration rate and the capnogram.
The sample rate is adjustable between 60 and 150 ml/min, to allow usage on adults as well as on neonates.
The CO2 values are shown in mmHg, %Vol or kPa.
By using the built-in, rechargeable battery it is possible to work up to five hours without mains connection.
Lightweight, compact and attractive design
Sidestream system with integrated pneumatics
High resolution and bright colour TFT screen
Integrated context sensitive help system
Ergonomic user interface, uses icons where possible
Rugged - vibration tested to MIL810 standard
Displays etCO2, inCO2, respiration rate and capnogram
Integrated rechargeable battery
Full alarm system, audible and visible alarms
Red alarm bar indicator, easily visible
Manual adjustment and automatic calculation of alarm limits
Simple operation with one knob
100 h of trend memory for up to 10 patients
Printer connection
Designed for neonates, infants and adults
Serial data output
Analog output of etCO2, respiration, capnogram (Opt.)
Order Information
Delivery
Order Number
CAP10
10 Patient Sample Lines
10 T-Adapters
5 Humidity Filters
Mains Cable
User Manual
01600
Brochure in PDF Format

CAP10 [162 KB]